Build Your Rig
Each rig at Christian Fabrication is custom-built for the jobs it will be intended to do. From our one-of-a-kind portable unit and entry level rigs, to commercial fit rigs and box trucks, we're sure to have the perfect fit for your applications.
SPRAY FOAM RIG BASICS
A spray foam rig can include everything from the spray foam supplies to a trailer to house it all. To become a spray foam contractor, you'll need a trailer or box truck to house your equipment, and the following basic equipment (exact equipment will depend on what types of jobs you want to accomplish):
Generator
Air Compressor
Spray Foam Gun & Heated Hose
Proportioner/Reactor: Spray Foam or Coatings
Transfer Pumps
Mixer
Air Dryer
Personal Protective Equipment
Chemical
Paint Equipment
Miscellaneous Hand Tools
Insulation & Coatings
Cleaners & Lubricants
With this equipment, you can drive to a client site, and be ready to go within minutes. Choosing the right rig, along with the proper supporting equipment and trailer/truck, will give you years of reliable use, and prevent problems in the future. You'll find it's well worth investing in the right strengths, sizes, and capacities for your needs.
Since some of the equipment is quite heavy, a good rig build will take into account:
Practical layout for the contractor to use efficiently
Proper weight distribution to balance the load and keep the trailer stable during towing and use
Solid barrel bracing system to safely transport chemicals
Cabinets, tool boxes, and a work bench to keep all equipment organized and easily accessible.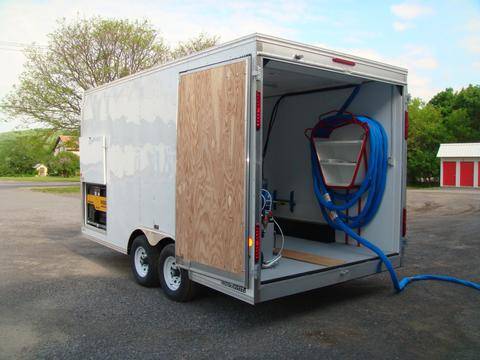 ---
SHORE POWERED SPRAY FOAM RIGS
Our shore-powered spray foam rigs work best when you can safely tap into on-site power. This style rig is recommended for use by part-time installers or General Contractors who prefer to insulate their own projects. While these allow you to bypass generator (and fuel) use, experience with electrical supply and high-power systems is recommended.
---
GAS POWERED SPRAY FOAM RIGS
Gas powered spray foam rigs are tailored for residential and smaller commercial applications, especially those where insulation is sprayed into stud cavities. With a reliable power source this rig is recommended for someone who plans to install full time on smaller scale jobs.
---
DIESEL POWERED SPRAY FOAM RIGS
Highly recommended, diesel powered rigs are among the most reliable and customizable trailers available, allowing you to choose from the largest selection of proportioners. While the initial cost is more, this type of rig will pay for itself quickly.
---
PORTABLE MINI SPRAY FOAM RIGS
As an addition to your primary rig, if you are interested in a more mobile rig, we can discuss options with you. A mini mobile rig allows you to provide spray foam at sites that are unreachable for a full sized truck or trailer, such as taller buildings, rooftops, or some indoor applications. The mini rig is designed to fit into a 32" elevator.
---
TRAILER/TRUCK
The trailer/truck will be insulated (with closed cell spray foam in the floor, walls, and ceiling), and include safety equipment for everything from first aid to fire extinguishers, and chemical eye wash. Trailer and tool configuration options will depend on what type of work you want to do, how much equipment, what type of foam, and other factors. We meet with you to determine your needs, and will help you configure your full tool-set, and proper trailer/truck size and rating—for your work. We make sure your trailer meets or exceeds all the needs of a successful spray foam rig, including special considerations for height and width, structural reinforcement, axle strength, and more.
---
CONFIGURING YOUR PRIMARY EQUIPMENT
Most of your equipment will be built around the type of proportioner/reactor you need, from heater size to the compressor and power required. All of these will impact your trailer/truck strength and specs, as mentioned above. Additional options are available, depending on your wants and needs.
Start by requesting a quote, or calling us to discuss your needs further. We look forward to working with you to help you build your business!